Tanaïse d'Alfabia (International, Dutch, Luxembourg Champion)
Tanaïse has been choose in a litter of 5 bitches and 2 dogs, his father is also a «Min Ma-Sha» VDH Champion Min Ma-Sha Gamil who offers with Nazreen this wonderful T litter.

Tanaïse is from far away my saluki who has a temper so close to her ancestors in the Middle East have: an enormous hunting instinct, a great intelligence, very mistrustful with strangers, and she gives her heart to her human friends that she has choose carefully.

Her hunting instinct is so terrible: a cat, a fox or a wild rabbit who comes inside of the garden is kill without compassion and great ability. Most time she is helped by her sister Thorayya but Tana is the only one who is eating the prey. Tanaïse have so much patience and fastness that she can catch small birds like bluetit or robin at flight and she savours them with so much pleasure.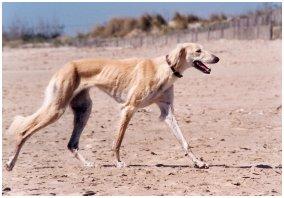 Her hunting instinct is no more to prove and she is so clever when she makes a walk by lead and there is a cat on the road, my other salukis are barking, but her she closes her eyes and turns the head to an other side like she have see nothing. But at home, she is big friend with the other animals as the guinea pigs or budgies. Specially the callopsites who warm up the dogs with a special cry when intruders are in the garden or on the road. When I 'm not in the living room, Tanaïse jumps on the table, and with this high position, she can easily watch her all territory and nothing escapes to her penetrate look.
| | |
| --- | --- |
| | |
She is very distrustful and doesn't like so much the show rings, but to please me she makes big efforts when she is in the ring. She stays very quiet and walks with so much grace and pride.
She is International, Dutch and Luxembourg Champion, in spite of the big concurrence of her sister Thorayya.
She loves to be present in the show rings by her big friend Jos Claesen; with him she is always so nice and makes good results. He is with his wife Irene and two neighbour Silvio and Madeleine the scarce people that she has choose for friends.
For me she is a great and marvellous companion and I thank Tanaïse to trust in me.
Click here to see the pedigree.