EL EBONY d'ALFABIA
(Intern, Dutch, Luxembourg, Zwitstzerland, German, VDH, French,Austria, Slovac, Belgium, Polish, Monaco, Tcheck Champion, )
In the litter E, El Ebony was the sweeter, cuddlier puppy, always happy to see people or other animal
It's the reason why Irene and Jos Claesen have chosen him, his little name is Eby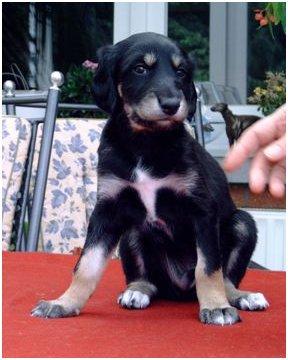 Eby is living with them in Netherlands, but I have kept him in co-owning and I nearly see him every week.
Eby have been a delightful puppy, love and spoilt by the two adult salukis Yhassir (Yezidis's brother) and Vicky (Zaahet- Zakiyya's brother)
Vicky took him) at once under his protection and he taught all that he knew.
El Ebony has quickly moved with pride and majesty, his physical development has been very fast, especially for a saluki male.


In show his success was studding, who can resist to this sweet saluki with a bright silky black and silver coat, walking with perfection and harmony. His body is well balance and muscle.
For his first show to the Belgium Royal Sight hound club, at the tender age of 6 month he have be select and finish Best Puppy of the exhibition.
He is already 2 times Luxembourg Young Champion, Young Dutch Champion and Europajungsierger 2006.
He has numerous CAC, CACIB, BOB in a lot different countries, few time places to the top of the X group and has been Most Beautiful Dog form Limburg in Maastricht in 2006.
He follows the trace of his Multi Champion grand mother Thorayya d'Alfabia

He is also the proud father of 2 nice litters, one in France (kennel des Hauts de Heurteloup)
and an other in Netherlands (kennel Walliyad Ahmad)

Irene, Jos and I are very proud of this superb Saluki

The nice Ebony is winning the famoes FALAPA show in France (108 salukis in competition) and 3 weeks later he is best of the X groep in the Charleroi show.
At only 3 years Ebony is 11 times Champion, great prize list for a saluki of exception
click here to see the pedigree