Beauty - Health - Tradition
My Salukis are selected on the old origin type, elegant, bur powerful, intelligent and sweat. Able to practise hunting at sight and killing the game.
They live in full freedom in the entire house, without cage or kennels.
A close property of 2.000 m² to the doors of the Belgian Ardennes allows them to unwind at will.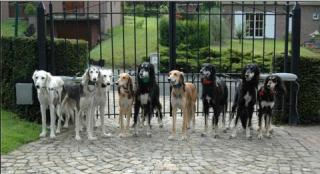 I'm the only Breeder of Salukis in Belgium recognise by the Saint-Hubert Society as Sporting Elite Breeder since 1999.
From time to time, puppies of excellent breeding lines available for serious amateurs.
I'm not only looking for show-dogs people because my Motto is "a show one day, a good house forever".
You are always welcome after taking an appointment.
Bernadette MAKINAY
rue Hayette 22
B 4130 Esneux - Avister
BELGIQUE
Tél. : 0032 4 380 36 53
Email : bernadette.makinay@win.be