Essifah d'Alfabia
(International, Austria , Netherlands Champion)

My Sissi was the lonely girl in a litter of six puppies
So I have no choice, but I was so happy to have a little bitch for me.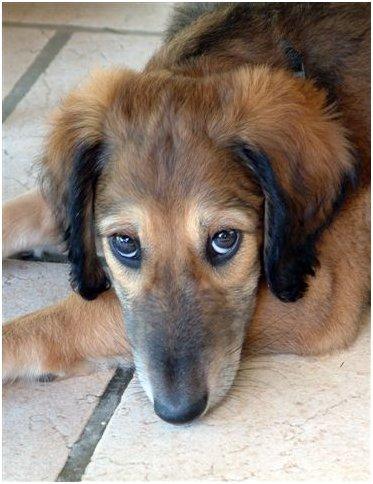 Sissi is real a tomboy, she is playing very hardly as her five brothers have learned her.
She is also a strong, sports bitch, always running in the garden, she is well developed
and very muscular, a truth force of the nature.
Like my others salukis, she love hunting and I'm proud of it.
She attacks trough the fences the wild boars, which come to roam around the property
And as soon as she has the opportunity she pursues with tenacity roe deer, hares and rabbits.
She is full of dynamism and has a robust appetite
She is real a good girl, with tenderness's demonstration rather rough, but she is a good hearted friend.
In show, the beginnings were rather slow; she took time to develop more mentally that physically.
But now, she has excellent results
She is becoming international Champion with 7 CACIBs in 4 different countries, Austria Champion with 6 CACAs and Netherlands Champion

She matures so well and is real a beauty, a pretty red girl to follow.
Sissi gives me so much pleasure
click here to see the pedigree